Consumers are becoming increasingly concerned about stress and sleep disorders. Many are dissatisfied with current treatments and are, consequently, seeking new treatment solutions. The sleep and stress segment is growing and evolving from commodity-driven to a more developed premium clinically supported one.
Holixer™ is a nutraceutical ingredient, clinically proven to support everyday stress, acute stress, and sleep. In September 2022 Natural Remedies published a new clinical study. The study investigates the effects of Holixer™ on stress, mood, and sleep in adults experiencing stress. The results suggest that it may reduce stress and improve sleep quality in just 8 weeks of supplementation.
The holy basil X Factor
Holixer™ is a low dose (250 mg/day) stress and sleep management solution. It is developed based on traditional evidence of Ocimum tenuoflorium (holy basil) and applying modern science.
Holy basil is considered an adaptogen, balancing different processes in the body and helpful for adapting to mental and physical stress. It is used in products recently launched by Bayer, Gaia Herbs, Kneipp, and Care/Of.
Tradition, backed by clinical support
Holy basil is an aromatic plant native to Southeast Asia that has been commonly used in Indian traditional medicine. In Ayurveda, it is referred to as "the elixir of life" and is believed to promote longevity and general well-being. Limited but increasing clinical trials suggest, Ocimum tenuoflorium has anti-stress effects.
Natural Remedies funded a clinical trial with the purpose to examine the effects of Ocimum tenuoflorium (Holixer™) on subjective and objective measures of stress and sleep quality in adults experiencing stress.
Study design and outcome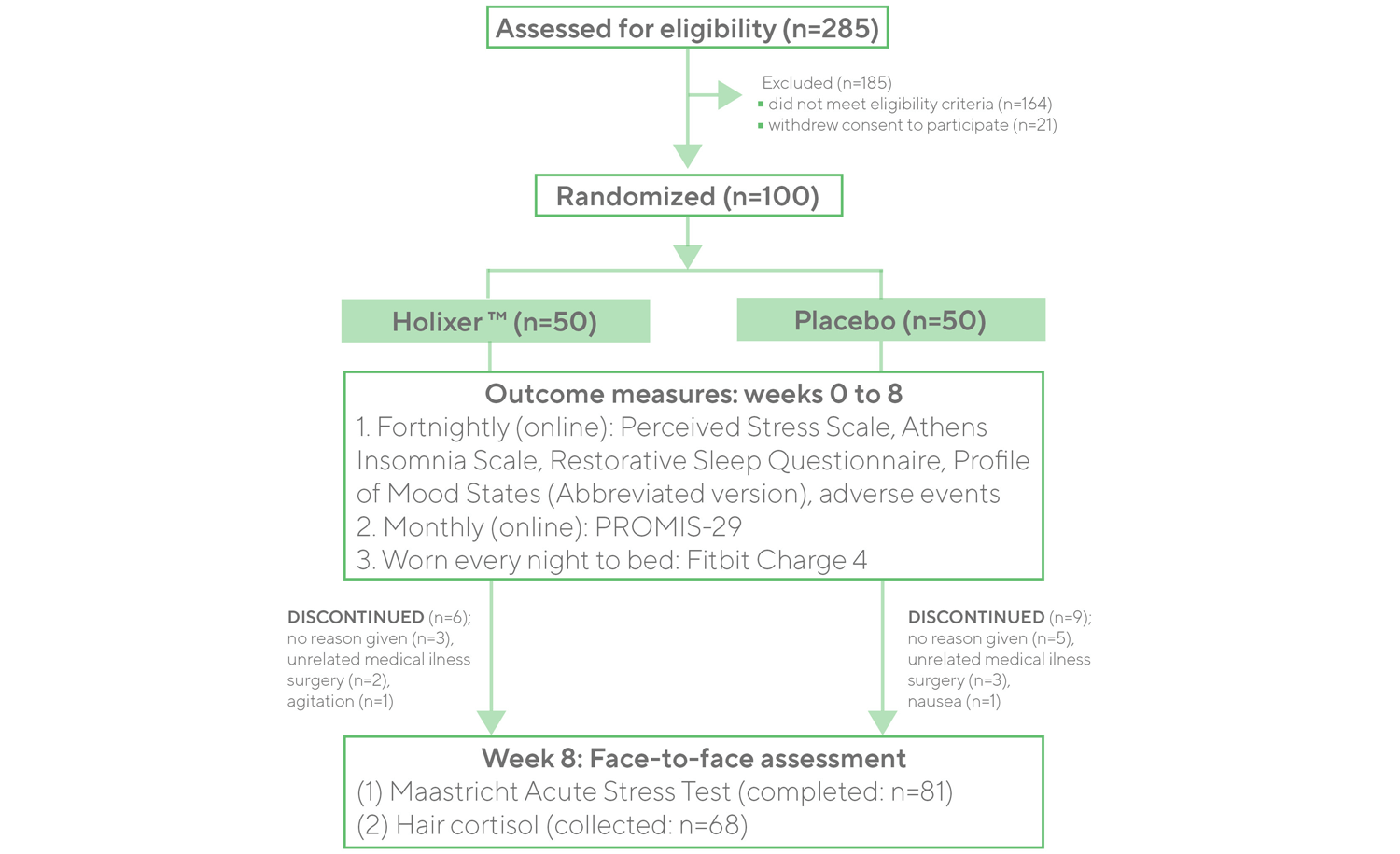 100 volunteers from ages 18 to 65 entered the study. They were placed into 2 groups. The first group received 125 mg of Ocimum tenuoflorium twice daily. The second group received a placebo instead. The results of this randomized, double-blind, and placebo-controlled study suggest, that 8 weeks of supplementation with Holixer™ may reduce objective and subjective measures of stress and improve subjective measures of sleep quality.
You can download the manuscript below for more in-depth information about the study design, methodology, and results.
Market opportunity
Stress and sleep disorders have become top consumer concerns in recent years. According to the STADA Health Report 2022, 37% of consumers say their stress levels got worse during the pandemic and 59% say they have experienced or felt close to a burn-out. Apparently, the pandemic brought attention to the matter and likely also caused a strain on mental health.
A growing number of consumers are dissatisfied with current treatments for sleep and are seeking new treatment solutions. All of this is sustained, driving outstanding growth of the mood/relaxing dietary supplement category.
If you wish to discover more about the market opportunity potential, you can find more relevant information and market data here.