We are very happy to expand our weight management portfolio with another exceptional and clinically supported product from our partners OmniActive. They have combined their rich heritage in the spice industry with cutting-edge research in delivery systems to produce award-winning Capsimax® Capsicum Extract. Capsimax® harnesses the beneficial heat of capsaicinoids, naturally present in red hot peppers, to boost metabolism1, promote satiety2 and support lipolysis3.

Capsaicinoids are a well-researched naturally functional ingredient, with over 90 human clinical studies confirming its positive effect on healthy weight management4. However, to gain these benefits, one would have to ingest 10 grams of red hot peppers per day, which can severely irritate the GI tract. To avoid this, Capsimax® employs OmniBead™ beadlet technology – a patented coating system that encapsulates concentrated natural capsicum to deliver effective levels of capsaicinoids without oral or gastric burning sensation. Just 2 mg of capsaicinoids from 100 mg of Capsimax® provides clinically proven benefits in a safe way.
Multiple human studies support the safety and benefits of low-dose, stimulant-free Capsimax®:
Accelerates metabolism and increases resting energy expenditure by 6 %, which amounts to approximately 100 kcal/day1
Significantly decreases appetite and promotes satiety2
Supports a healthy body composition and improves waist-to-hip ratio2
Increases lipolysis – the breakdown of fat for energy production3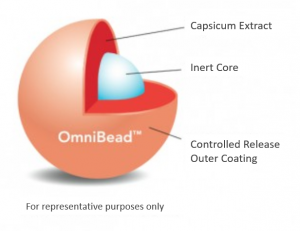 Capsimax® is suitable for single- or multi-ingredient formulations using tablets, capsules, and beverage applications. This makes it adaptable to a wide range of weight management, sports nutrition, and healthy lifestyle products and thus excellent for expanding your range into the hottest trends propelling the market.
References
Deng, Yue, et al. Advances in Nutrition: An International Review Journal1 (2017): 5-5.
Urbina, Stacie L., et al. The FASEB Journal(2016).
Bloomer, Richard J., et al. Lipids in health and disease 1 (2010): 72.
Whiting, et al. Appetite 2 (2012): 341-348.