There are various indications we can address with Vitamin K2, such as bone health, cardiovascular health, joint health, women's health, and immunity. In a case study, we analyzed the market situation that allowed our clients, GAL Vital from Hungary, to surpass 7 mio € in market value in the 5th year after the initial product launch with VitaMK7® from Gnosis by Lesaffre.
Clinical research confirms the benefits of vitamin K2 in bone and cardiovascular health, which are among the largest global dietary supplement segments. Cardiovascular health is currently at the top of consumer concerns and the segment has been growing faster than the total dietary supplement average in CEE in the past 5 years.
We have prepared a presentation with a case study and collected market data.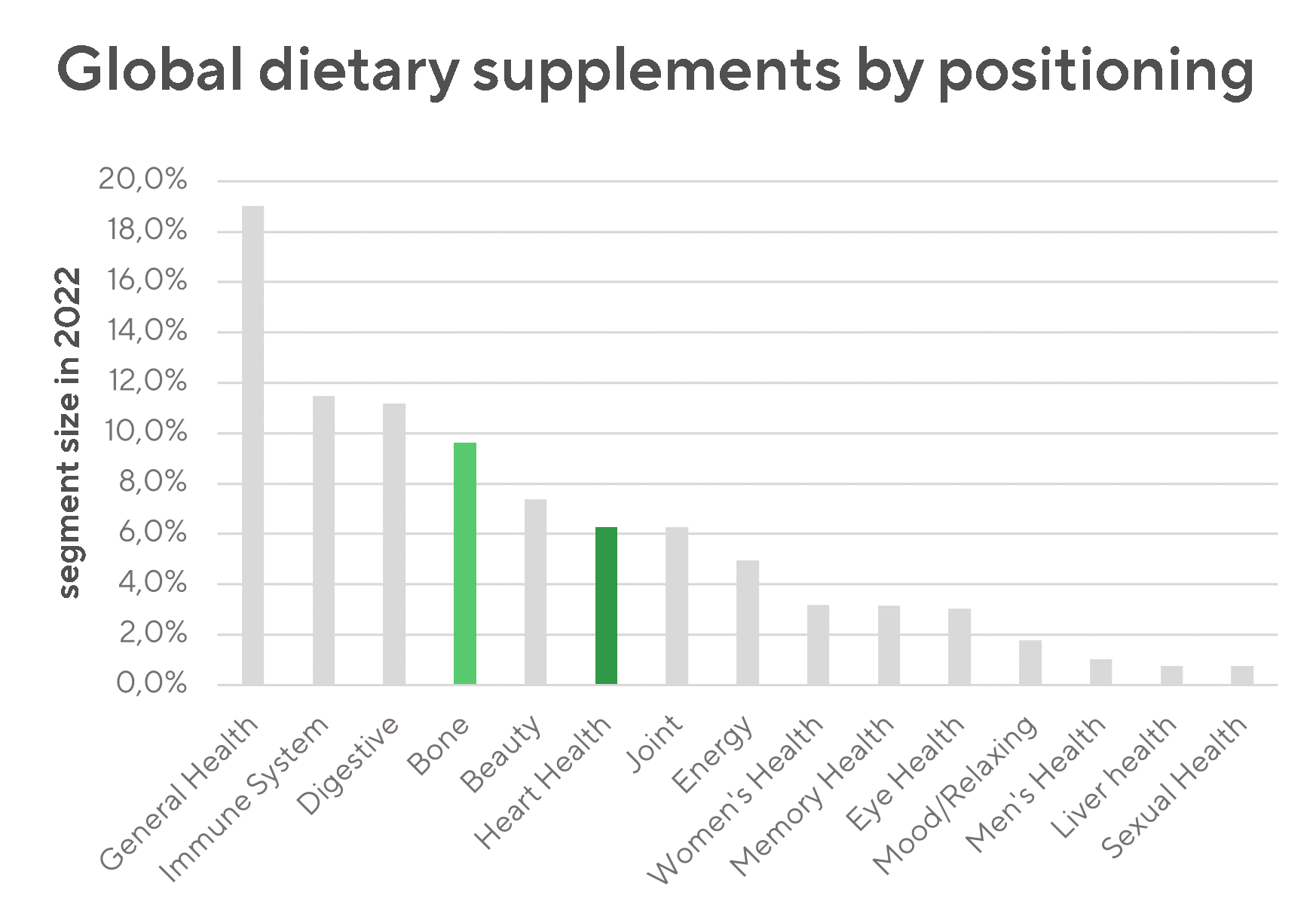 Key points:
VitaMK7® comes from a natural source of K2, achieves a high level of purity, offers high stability, and is available in a wide range of formats
cardiovascular, bone, joint, women's health, and immunity products represented over 35% of the global dietary supplement market in 2022
European consumers have placed cardiovascular health, joint, and muscle pain at the top of future health concerns
the premium, clinically supported segment of products based on vitamin K2 is growing globally and in the CEE region
in a "Global Bone and Joint Health Ingredients Growth Opportunities" report, Frost & Sullivan highlights the opportunity for clinically studied ingredients in the European market
sales of VitaMK7® in Central & Eastern Europe have been growing in recent years with a slight decline in 2021 but a peak in 2022
GAL Vital launched 8 different supplement products with VitaMK7®, addressing various indications and exceeded 7 mio € in estimated market value just 5 years after the launch
With cardiovascular and joint health at the top of consumer health concerns and the development of the advanced products segment, there is an indication of a promising market opportunity in the CEE region for clinically supported products based on branded vitamin K2 ingredients.
Are you considering addressing this opportunity by launching a product based on VitaMK7®? Request more information by clicking on the button below.