Rising obesity and life expectancy are increasing joint health issue occurrence. As a result of poor dietary and exercise habits during the pandemic, many people are also looking to improve their skin health.
The demand for joint health supplements is growing. Worldwide consumers are increasingly recognizing the influence of skin health on their overall health. Europeans have named joint & muscle pain as one of their top health concerns for the next 10 years.
Unsurprisingly, the number of brands deciding to launch premium, clinically studied products, addressing these two popular segments, is increasing. The star ingredient of these products is collagen, which Frost & Sullivan named as "one of the top growth opportunities to watch". We prepared a presentation with collected market data.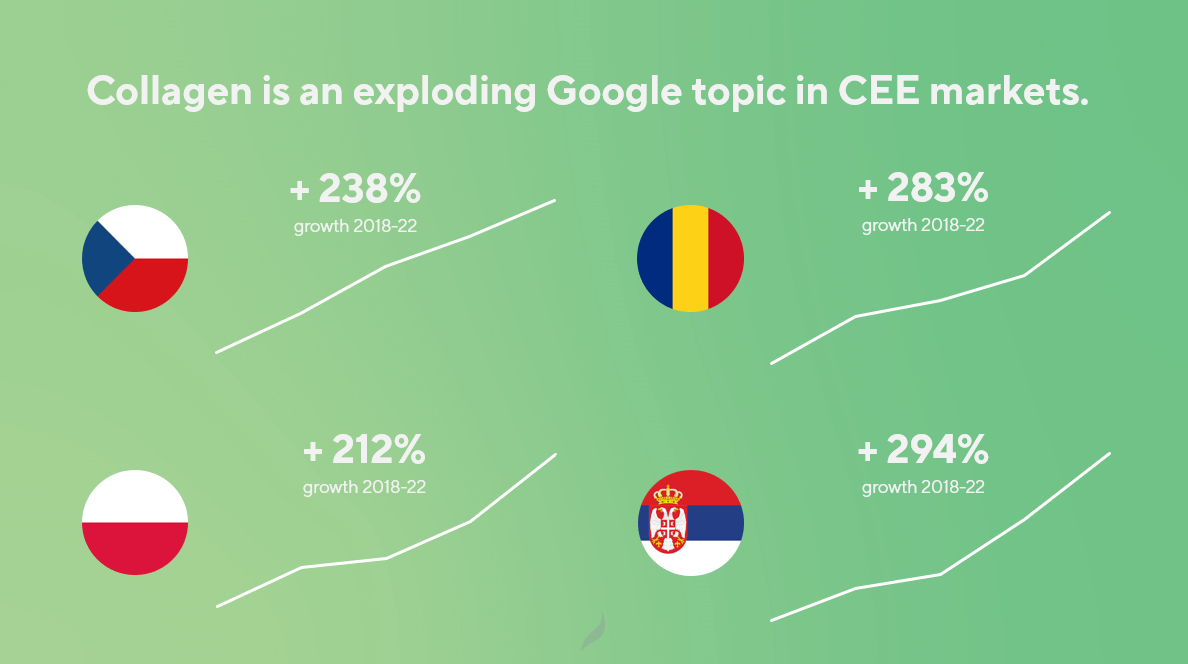 Key points:
demand for digestive health supplements has been growing faster than the total dietary supplement average in the past 5 years globally and in the CEE region
beauty supplements were among the top 5 largest dietary supplement categories globally in 2022
Google searches for "collagen" grew by more than 200% in the past 5 years in various CEE countries
collagen ingredients were present in 24,6% of all new dietary supplement launches in the CEE region in 2022
global and CEE brands are launching a broad range of products based on clinically studied and branded collagen ingredients addressing joint health and beauty
Due to the increasing consumer interest in joint and skin health and their shift towards premium products, a clear market opportunity for clinically studied branded collagen ingredients in the CEE presents.
Are you thinking about addressing the opportunity? Find out more about clinically studied branded collagen ingredients in our science-based portfolio. You can also request more information on the link below.