Have you ever heard of an ingredient winning 4 NutraIngredients Awards? Livaux® by Anagenix has been chosen for the Ingredient of the Year in the Prebiotic category award by NutraIngredients USA for the second time! Congratulations!
What are NutraIngredients USA Awards?
NutraIngredients USA Awards honor the best and brightest in ingredients, finished products, companies, people, and initiatives in the nutrition and dietary supplements industry. 2022 is the 5th year the awards have been given out.
This year there were 17 award categories to enter. Therefore the awards covered a more diverse topic than ever before.
Prebiotic of the Year
The Prebiotic category, in which Livaux® was awarded, aims to celebrate the best ingredients dedicated to selectively promoting the growth of beneficial microorganisms in the GI tract.
All ingredients with demonstrable prebiotic activity were eligible for entry into this category. From established ingredients to emerging fibers, polyphenols, and other non-digestible food ingredients, this award celebrates ingredients designed to meet specific demands in the prebiotic category.
"A winner in 2020, Livaux® again put forward a strong application, citing good studies. The ingredient, which is effective at 2-3 grams per day, has experienced impressive growth over the 12 months," said the judges. "Livaux®'s focus on beneficial bacteria Faecalibacterium prausnitzii F.prau remains a novel approach and a differentiator in an emerging category of prebiotics."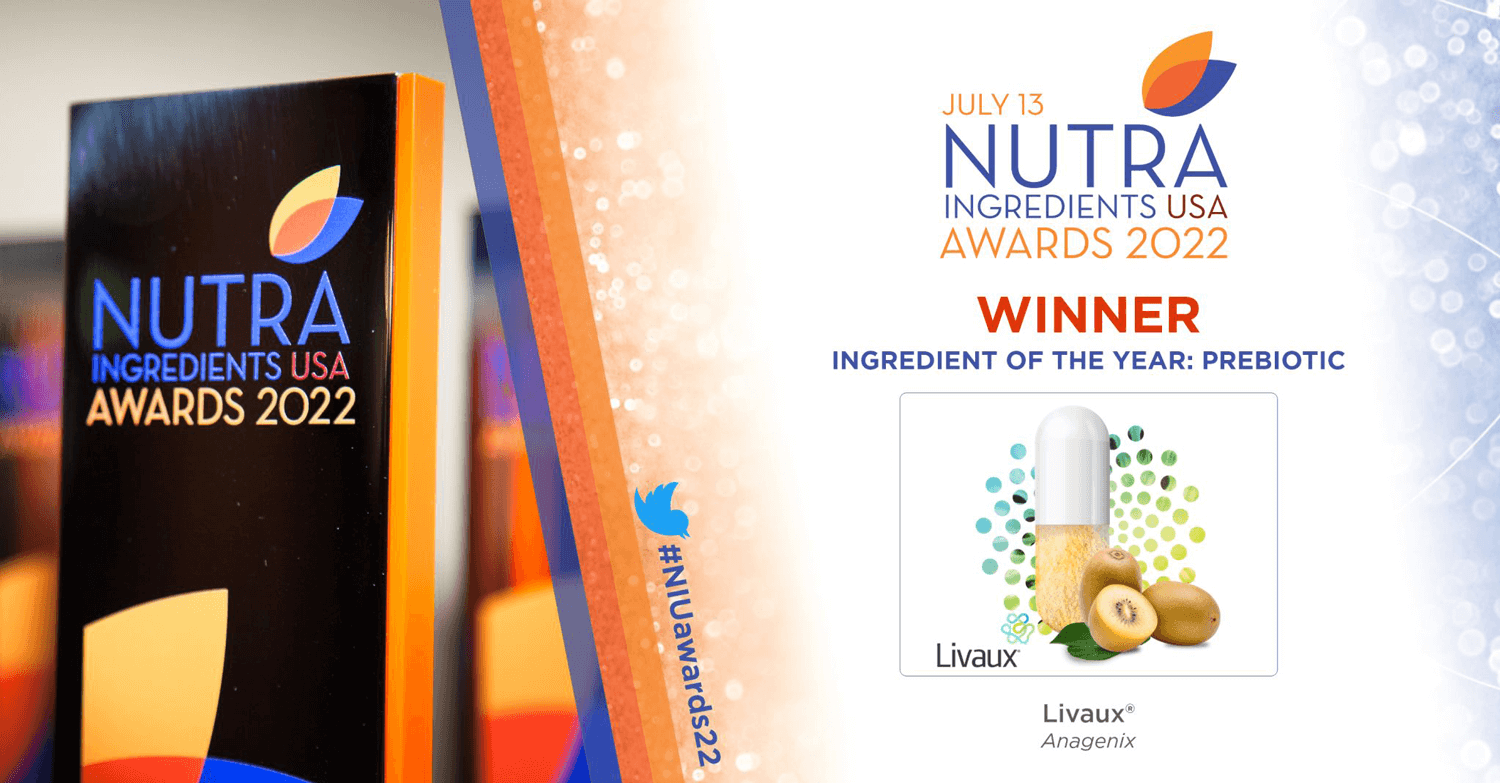 A patented New Zealand whole fruit gold kiwifruit powder that supports the gut microbiome
Livaux® is a multiple-time award-winning, natural prebiotic made from New Zealand gold kiwifruit. Clinical research shows that it promotes the growth of beneficial bacteria F. prau and thus significantly improves digestive discomfort and regularity.
Livaux® is a 100% whole-fruit ingredient. Its gentle, solvent-free proprietary processing retains high levels of key nutrients – soluble and insoluble fibers, polyphenols, vitamin C, vitamin E, and folate. Livaux® is also free from preservatives, gluten, and added sugar.
Key benefits of Livaux®:
• improves gut transit and fecal bulking, increases mucus production, and supports immune system
• the only dietary supplement shown to increase the levels of F.prau in functionally constipated adults
• supported with 2 clinical studies + more in the pipeline
• 100% whole-fruit ingredient
• low dose (clinically proven at 600 mg per day)
• pleasant taste
• rich in fibers, polyphenols, and vitamins
If you wish to know more about how Livaux® works, watch the video below and download the fact sheet.
Other awards
Livaux® is arguably the most awarded prebiotic ingredient in the industry. Besides this year's Prebiotic of the Year award, it has previously been awarded by:
• NutraIngredients Award 2022 as prebiotic of the year
• NutraIngredients USA Award 2020 as prebiotic of the year
• NutraIngredients Asia Award 2020 as prebiotic of the year
To learn more about Livaux®, request more information.