Abyss Ingredients just announced their first clinical study, which highlights the benefits of Cartidyss™ on skin beauty.
Collagen and skin aging
Collagen is a major component of our skin and is responsible for the cohesion and resistance of the tissues. Unfortunately, collagen synthesis in the human body decreases from the age of 25. The exposure of our skin to both internal and external factors induces the formation of wrinkles, appearance of brown spots, and thinning of the skin.
Cartidyss™
Thanks to its specific and unique composition, Cartidyss™ supports healthy skin aging. Cartidyss™ is composed of collagen peptides and glycosaminoglycans (GAGs) which are responsible for maintaining our skin structure, hydration, and its mechanical properties.
A recent clinical study shows that after 90 days of supplementation at a low dosage (500mg/day) Cartidyss™:
improves dermis density (collagen matrix) by 39% compared to placebo
significantly reduces skin wrinkles
improves skin flexibility and viscoelasticity
tends to keep hydration in deeper skin layers
tends to improve dermis hydration
tends to reduce the size of the pores
Perceived efficacy after 90 days of Cartidyss™ supplementation: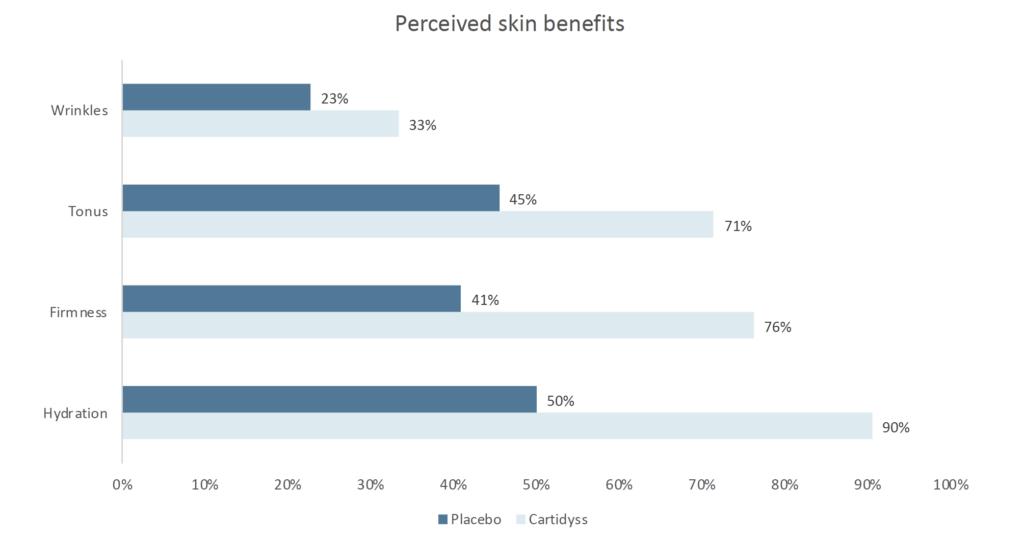 Cartidyss™ is a trademark, owned by Abyss Ingredients. Hermes Consilium is proud to be an exclusive partner of Abyss Ingredients in Central and Eastern Europe.