A 2020 study by TTC confirms brands add value
Hermes Consilium and our partners have always been focused on branded ingredients that bring added value in terms of standardization, quality control, clinical support, bioavailability, user-experience, etc. We know that formulating with such ingredients brings credibility in the eyes of doctors and pharmacists and enables medical detailing but we have not yet seen any credible research examine the effect on consumers.
By this, we do not mean only formulating with branded ingredients to increase chances of better efficacy, but the actual effect of putting an ingredient's brand name on the product packaging.
Trust Transparency Center (TTC) is known for conducting many consumer surveys and they laid the groundwork for this topic already in 2019 when a survey of theirs indicated that science was the most important factor for consumers choosing a supplement to purchase. Building on this, in 2020 they commissioned a survey with over 2000 regular supplement users from the United States, United Kingdom, and Germany. The goal of the study was to investigate the impact of branded ingredients on purchase decisions and the development of trust in dietary supplements. They examined supplements in general, as well as specific categories including probiotics, prebiotics, vitamin K2, collagen, and turmeric.
The survey showed that the majority of supplement users know what branded ingredients are, 35 – 40% appreciate them when they find them, and 12 – 18% always look for them.
While there is still room for the education of certain consumers, over 50% of the total respondents surveyed indicated they either look for or appreciate finding branded ingredients, which is very impressive. The found numbers did not differ significantly between the three studied markets.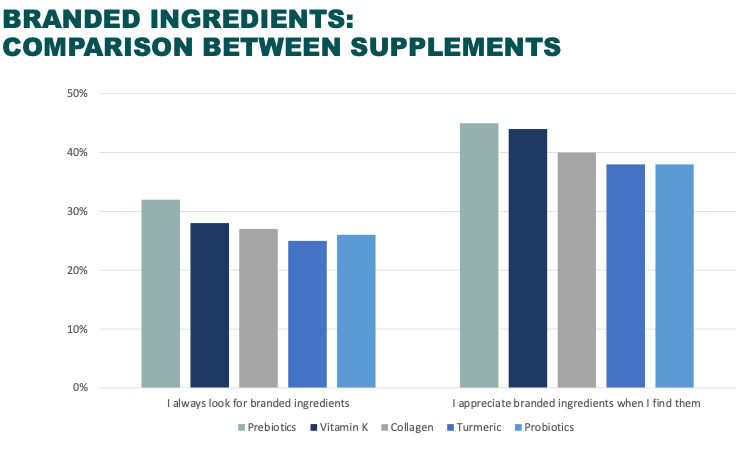 Additionally, regular supplement users of prebiotics, probiotics, vitamin K, collagen, and turmeric, were asked how important is the inclusion of branded or proprietary ingredients for their purchasing decision. Near or above 70% of consumers across all these five ingredient categories stated they are influenced by branded ingredients.
Although the studied markets are among the most developed, we can expect such trends to develop in the CEE space gradually as well.
References:
Web source: https://wholefoodsmagazine.com/columns/tracking-transparency/new-research-shows-consumers-value-branded-ingredients-do-you/ – accessed on November 15th, 2020.