During the past year our team visited the world's leading suppliers and attended the major trade shows to acquire a global overview of the state of the industry. Here is a summary of the most important trends revealed in the past year:
Natural extracts (superfoods and Ayurvedic herbs)
Healthy active lifestyle
Branding and studies
"Escape from western medicine", "sustainability", "organic" and "clean label" are all popular buzzwords that work towards the growing popularity of natural extracts and it is no wonder that superfoods and Ayurvedic herbs are excelling. Sales of the latter are projected to grow with a CAGR of 11% between 2016 and 2021.
Despite the recent boom of categories such as gut health, cognition and immunity, sports nutrition for a healthy active lifestyle remains the fastest growing category in the consumer health market. It grew from 8,6 to 13,8 billion EUR in the past 5 years and it is not about to slow down. Euromonitor forecasts a 10,6% CAGR for the period between 2018 and 2023.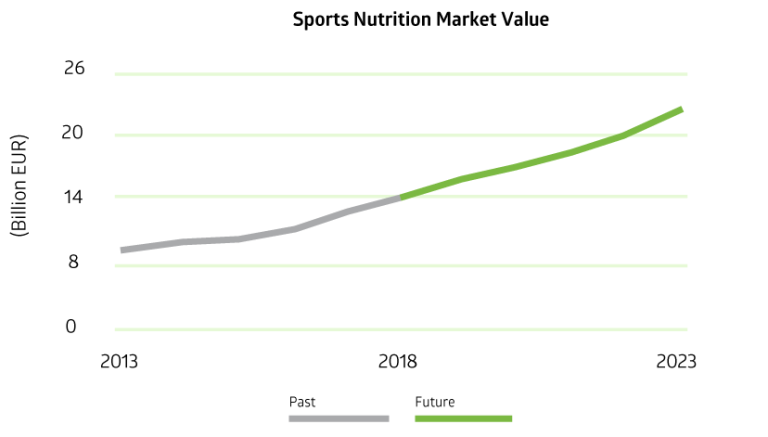 In the past year a surprising amount of ingredients have become branded. A rise in quantity was naturally followed by a drop in quality and branding is no longer a guarantee of added value. The standard of scientific data in the industry has become more questionable with the rise of study-imitating articles. Recognizing credible science and the gold standards of clinical studies will become an important skill of the future.
Based on our analysis of the year and projections for the industry's future, we created a pick of ingredients that fit all the mentioned trends and are most secure choices for growing sales in the years to come.
Sensoril® is a leading extract of Ashwagandha, which is the top-selling Ayurvedic herb. It has many advantages compared to other sources and strong clinical support for applications in nutrition for a healthy active lifestyle.
Capros® is an organic extract of the fruit of Phyllanthus emblica. It is a super antioxidant and excellent cardiovascular support product, backed by ten human clinical studies. It's Nitric Oxide boosting properties make it ideal for athletes.
Curcumin is generating immense demand and CurcuWIN® is an extract, solving typically poor bioavailability. It has clinically proven superior absorption, and studies indicating great promise for sports nutrition.