Gnosis by Lesaffre received a First Place NIE Award in the Excipients/Non-actives/Delivery Systems category for its new Vitamin K2 Matrix protective technology. The technology was first launched in December 2021 for the purpose of ensuring the stability of vitamin K2 (menaquinone-7 or MK-7) in complex finished product formulations. The goal was to ease the formulation process for Gnosis by Lesaffre's manufacturer partners. The NIE Award confirmed the uniqueness of this proprietary technology innovation. Congratulations!
What are the NIE Awards?
The NIE Awards highlight the most cutting-edge and advanced natural branded ingredients backed by scientific research. Ingredient manufacturers from all over the globe can enter on condition that they supply natural finished product companies in the United States.
There are 6 award categories: Condition Specific, Sports Nutrition, Healthy Aging, Weight Management, Personal Care/Cosmetics, and Excipients/Non-actives/Delivery Systems. Gnosis by Lesaffre received the award in the latter.
First place award
Nutrition Industry Executive officially announced the winners in the Oct/Nov issue, following the presentation of certificates at Supply Side West 2022. The Awards were selected based on the following criteria:
Product research/evidence/bioavailability
Sustainability/traceability/certifications (if applicable)
Consumer need
The "Impressiveness Factor"
Scientific panel of experts judging the NIE Awards commented: "Solving the challenges of making vitamin K stable, especially in complex formulas, is something that should be appreciated by formulators and manufacturers. The company provided technical support and described in detail the chemical and physical properties of the K2 Matrix demonstrating good dispersibility and bioavailability compared to other forms of vitamin K2."
You can read more about the award here.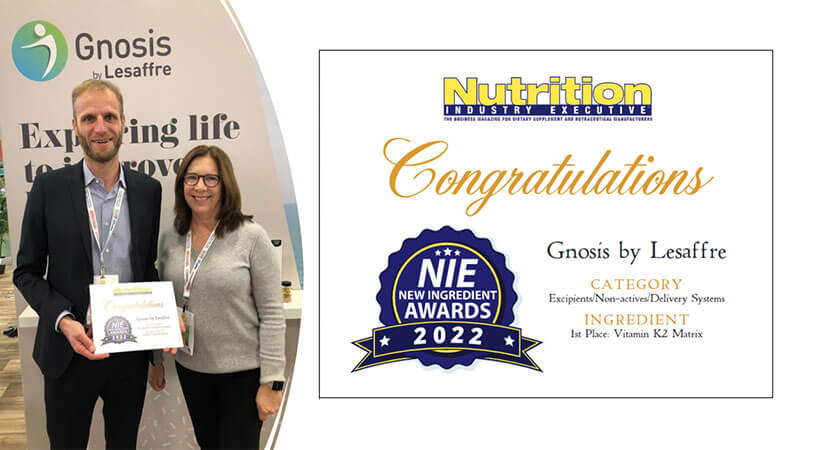 How does Vitamin K2 Matrix technology work?
The Vitamin K2 Matrix technology protects the particles of MK-7 with no coating, additives, or additional ingredients. In doing so it provides a less cumbersome and more predictable formulation process for complex K2 products. Moreover, it is not an adaptation of an existing technology previously utilized for other ingredients. Gnosis by Lesaffre explicitly developed it for Vitamin K2.
Its key benefits include:
Enhanced protection
Clean label
Easing the formulation process
To learn more about the ingredients that are based on Vitamin K2 Matrix technology, request more information.