Study that examined the effects of standardized aqueous extract from the edible fruits of Terminallia chebula has been published in the Asian Journal of Pharmaceutical and Clinical Research. Next generation vegetarian joint health product could be a great alternative for the treatment of osteoarthritis.
A total of 100 participants, suffering from joint discomfort for at least 6 months, were included in randomized, double-blind placebo study. Participants were divided in 5 treatment groups:
AyuFlex 500 mg twice daily
AyuFlex 500 mg twice daily + Proprietary Chromium Complex 400 mcg daily
Proprietary Chromium Complex 400 mcg daily
AyuFlex 250 mg twice daily
Placebo
Results from the study confirmed that:
Treatment with AyuFlex 500 mg twice daily for 12 weeks resulted in significant improvements in mWOMAC, knee swelling index and VAS pain, stiffness, and disability
Therapeutic benefits are evident in first 4 weeks
Amount of rescue medications was the smallest in the AyuFlex 500 mg twice daily group, confirming analgesic activity of the ingredient
Unlike NSAID drugs, all study medications were well tolerated and no serious adverse events were report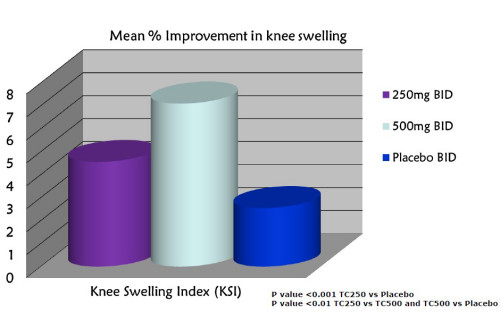 Apart from the recently published results, Ayuflex™ supplementation lead to improvement in cardiovascular health and benefited glucose management.